Our Diwali Bonanza was a huge success and as 2020 draws to a close, we've got an even more awesome Christmas Bonanza lined up for OneCard members.
During the Diwali Bonanza, we received feedback from cardmembers that rewarding only the top spenders meant that those with a lower credit limit lost out on a chance to win big. We've listened, and the Christmas offer goes one better.
A chance to win BIG on every spend - 1.4 lakh bonus points on offer every day
This time, you get some really cool stamps and bonus points every time you spend during the Christmas Bonanza. Here's how it will work:
🎄 Use your OneCard online/offline for all spends
🎄 For each spend over ₹100, you get Christmas stamps
🎄 Each stamp has a value from 75 points to 50,000 points
🎄 Unlock your stamp/s the next day at 12 noon
🎄 You can get up to 10 stamps every day
🎄 Each day, 1 stamp worth 50,000 points is up for grabs
🎄 Get up to 1.4 lakh bonus reward points every day
Remember:
There is no correlation between the spend amount and the point value of a stamp. This means you could spend just ₹100 and get a stamp worth 50,000 bonus points!
Isn't that awesome? 😃
The OneCard Christmas Bonanza runs from December 25, 2020 till 11.59 pm on January 5, 2021. All winners will receive their points by January 20, 2021. Do check out the offer terms and conditions.
OneCard Referral Bonanza
Limited period offer - Get 1000 2,500 points for referring family & friends
We've got a tremendous response so far from existing cardmembers as they referred their family and friends, and helped in building the OneCard community.
As a special offer, you can now get 2,500 bonus points when someone joins OneCard from your referral link, and activates their card by December 31, 2020. Your referral link is unique and helps us identify and reward your efforts.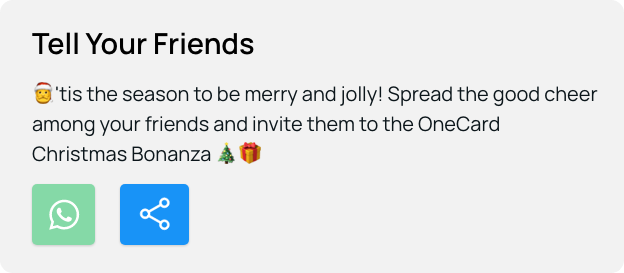 You can refer friends from the Profile section as well as the Christmas Bonanza section in your OneCard app. The points will be credited once your referral activates their OneCard.
What's more - if they activate their OneCard before December 31, 2020, they're eligible for a joining bonus of 5,000 reward points, so get cracking with your referral link now!
We hope you enjoy the festive season with your OneCard, and wish you & your family a Merry Christmas!
Cardmembers on iOS: You will see your stamps and points in the app next week - don't worry, Santa's keeping them safe 🎅