We know you've all been waiting to get your hands on the metal OneCard, and we have just the happy announcement for you - OneCard Waitlist 2.0 is now open! The previous Waitlist closed on 10-Mar-20 and saw participation from more than 75,000 app users.
OneCard Waitlist 2.0
We designed Waitlist 2.0 to be even more simple and fun to unlock your OneCard. Anyone who hasn't unlocked their OneCard yet can join the Waitlist to get the card. There are 10,000 OneCards up for grabs, and we'll keep adding more in future.
This time around, the process to get your OneCard is inbuilt in the Waitlist itself. Just provide some basic details required for credit evaluation to join the Waitlist. These are necessary as per our internal credit policies. Once part of the Waitlist, referrals and spins will help you in jumping up the Waitlist ranks.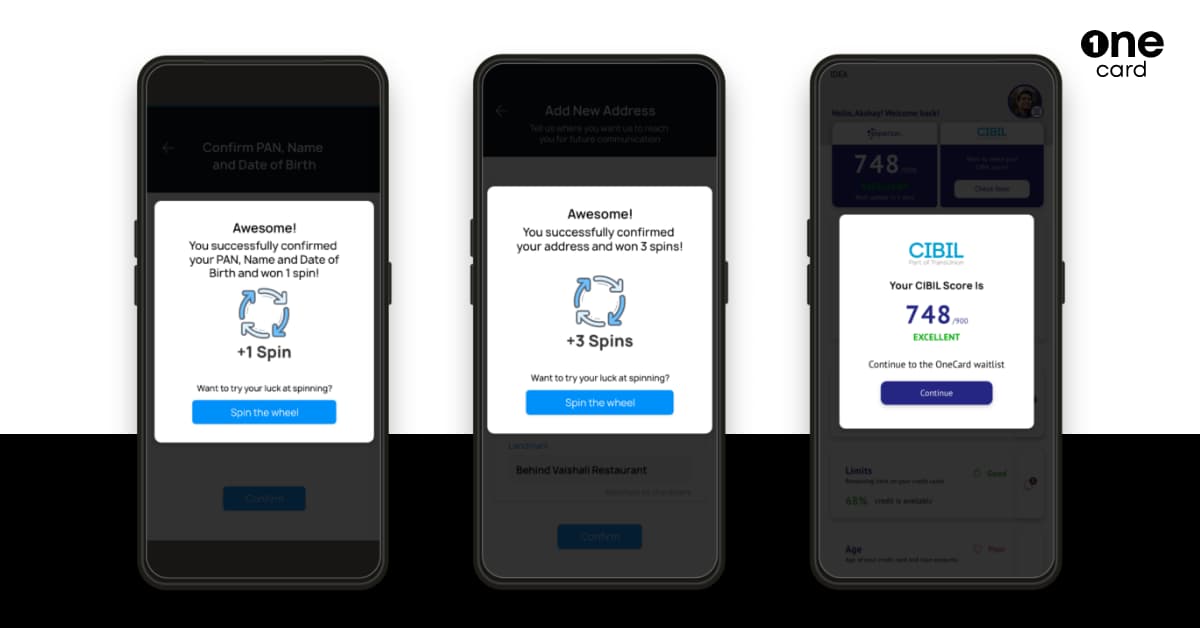 The other big change - in addition to the spin wheel with elements to unlock as before, we added some more gamification to the process, giving you many more options to get spins to unlock your OneCard.
A dynamic Waitlist
As we'd done earlier, Waitlist 2.0 is also dynamic in nature. Your waitlist rank and the probability of getting the Metal OneCard depends on multiple factors including referrals and components of your credit report we receive from Credit Bureaus.
The dynamic nature of the Waitlist means that it's no longer a first-come first-served basis process and participants with similar credit profiles have equal chances to unlock OneCard, regardless of when they join the Waitlist.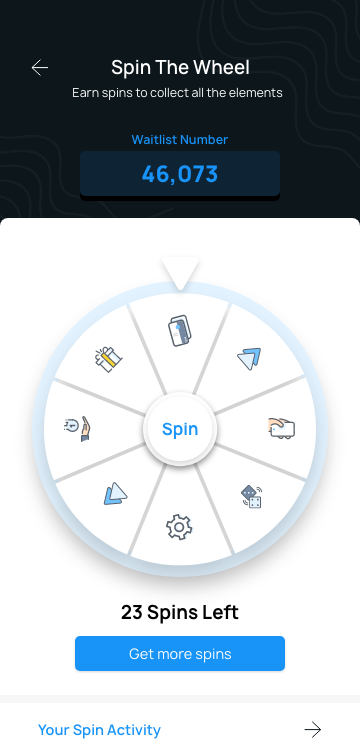 This means you will need to keep getting spins to either unlock elements or move up the Waitlist, or else other participants will overtake you.
Our Credit Process - An Overview
Like any other credit product, OneCard applications are also subject to certain checks. These include but are not limited to your name, PAN (Permanent Account Number), Address (City), and several other data points, along with credit reports.
Besides compliance with various banking and regulatory guidelines, we use information from more than one credit bureau to ensure we don't miss any important information, and to calculate an internal score. In some cases, we may also ask you for additional details to ensure we are able to provide you an appropriate credit limit.
To summarise, our final decision to issue OneCard is based on existing credit information, internal credit score, a function of which cities we operate in, as well as data from various other sources, so some participants will be approved faster. While some participants may have to wait longer or may not be approved initially, it does not reflect on their overall credit worthiness in any manner.
Spinning Made Fun
Spinning Made Fun
In Waitlist 2.0, to get spins and unlock elements or jump up the Waitlist, some of the new ways to get free spins are:
-Verify your PAN and win free spins
-Share your address for further communications
-Refer friends and win spins when they join the Waitlist
-Play the weekly quiz on the OneScore App
The One Card App – An Integral Part of Waitlist 2.0
The Smart, Powerful OneCard app provides you personalised experiences and rewards. We are happy to share information of some of the features and their functionalities available in the OneCard App as part of the Waitlist 2.0.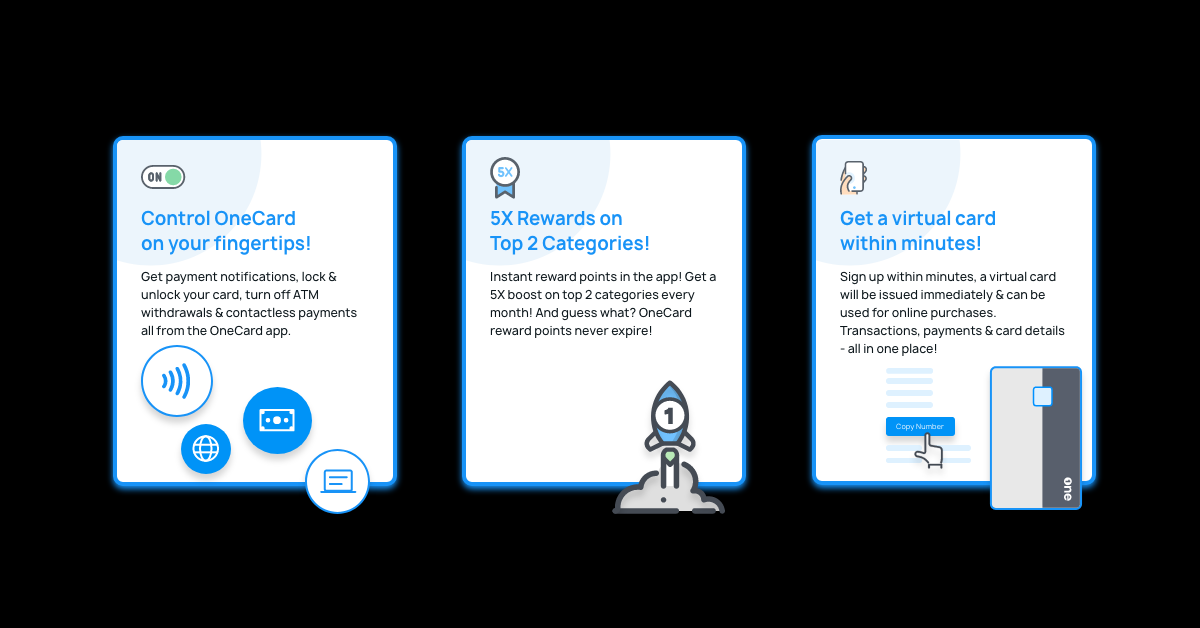 In-app instant reward redemptions, control whether your OneCard can be used online/offline, internationally or only domestic use, or for cash withdrawals and a smart "Copy your OneCard number" feature to simplify online shopping – it's all there in your OneCard app.
Your credit score is our top priority!
As we've mentioned in the Waitlist Terms and previously in this post, since this is a credit product, there will be certain credit checks done, including verification of PAN along with your complete name and correct address. We're doing this to ensure you are a bona-fide applicant and that someone else is not applying on your behalf.
We do understand that participants may be worried about any impact on their credit score. Rest assured, simply joining the OneCard Waitlist will not affect your credit score in any manner. A bureau inquiry will be done only when you've activated your OneCard and are setting it up after unlocking it.
Wildcard Entry
You may have come across the term "Wildcard" in individual sports, like in tennis or badminton for eg. where a certain player (or players) get a wildcard entry into the main draw of participants in spite of not qualifying automatically.
To make the Waitlist more lively, we've added a wildcard concept to it. This means we will select participants on a random basis periodically among OneScore app users and fast-track their approval for OneCard. They will have a direct entry to OneCard where they just need to complete their onboarding journey to get their card.
Unlock Card Instantly
Besides being faster and easier to use, the best part about Waitlist 2.0 is - once you collect all elements and unlock your OneCard, it will be ready to use instantly. No waiting till the Waitlist is closed.
Just click on the invite link that will be sent to you to download the OneCard app and activate your virtual OneCard from there. The entire on-boarding process takes less than 2 minutes to complete.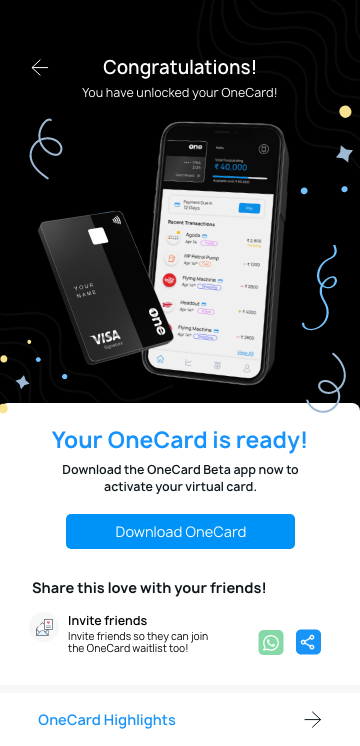 Waitlist 1.0 members
If you were a part of Waitlist 1.0, we've got your back. You will be automatically enrolled in Waitlist 2.0. Additionally, you will get two free spins from us to kick start your journey. Keep spinning and collect all elements to unlock your OneCard this time.
We'd like more and more users to try OneCard and share their feedback, based on which are working on launching new products and solutions, including variants of OneCard. So even if you don't make the cut initially, be patient and keep the faith - you may soon see a surprise coming your way on the OneScore app.
To recap:
What you get with OneCard
-It is a mobile-first, lifetime-free credit card
-Powerful app to control all aspects of your card
-Forex fees among the lowest in the market, at just 1%
-5X Rewards on your Top 2 spend categories each month
-An exquisitely crafted metal card
How to unlock OneCard?
-Collect spins in different ways
-Spin the wheel to collect elements or jumps
-Unlock your OneCard on collecting all elements
Download the OneScore app now to join Waitlist 2.0! Happy Spinning!