While purchasing the latest gadgets or anything expensive, we often end up navigating multiple websites to look for the best deals, especially EMI options. After all, EMIs are the most affordable and flexible way to buy expensive items.
At OneCard, we have made it simpler for you to get EMI options on top brands the most popular of which is Merchant EMI
Merchant EMI and how it works
In this option, the merchant, i.e., the brand you are shopping for, provides the EMI option to customers. The duration of EMI, and interest rates are determined at the time of the purchase itself. The duration typically ranges from 3 months to 24 months.
No Cost EMI
In the case of a no-cost merchant EMI, the credit card issuer will continue to charge interest, but the merchant offers an upfront discount to the customer to compensate for it. Thus, for the customer, it becomes equivalent to a no-cost EMI. There are two ways in which you may get the discount. Some merchants may give you an instant discount, so your price is reduced upfront. Some merchants may give you the discount in the form of a deferred cashback, which will be credited to your account after a few days, typically between 30 and 90 days, depending on the brand. In both cases, you will be able to purchase the item without paying any interest on it.
Here's an example of how a no-cost EMI works:
Suppose you are looking forward to buying the latest Samsung Galaxy Z Flip5 5G phone from Amazon. The cost is Rs. 99,999. Using the no-cost option by OneCard, you will be able to buy it in up to 24 EMIs without paying any interest charges. In this case, the no-cost offer is an upfront discount on the price. So in the case of a 3 month no-cost EMI, the final cart amount will be Rs. 99,999 - Rs. 2,609 = Rs. 97,390. The issuing bank will then charge you the interest amount on your EMIs, making the overall price Rs. 99,999.
However, in the case of some other product, you might get a cashback, in which case you will pay Rs. 99,999 at the time of purchase and get Rs. 2609 as a cashback in your credit card statement at a later date.
Here's an example of how a no-cost EMI offer appears on Amazon: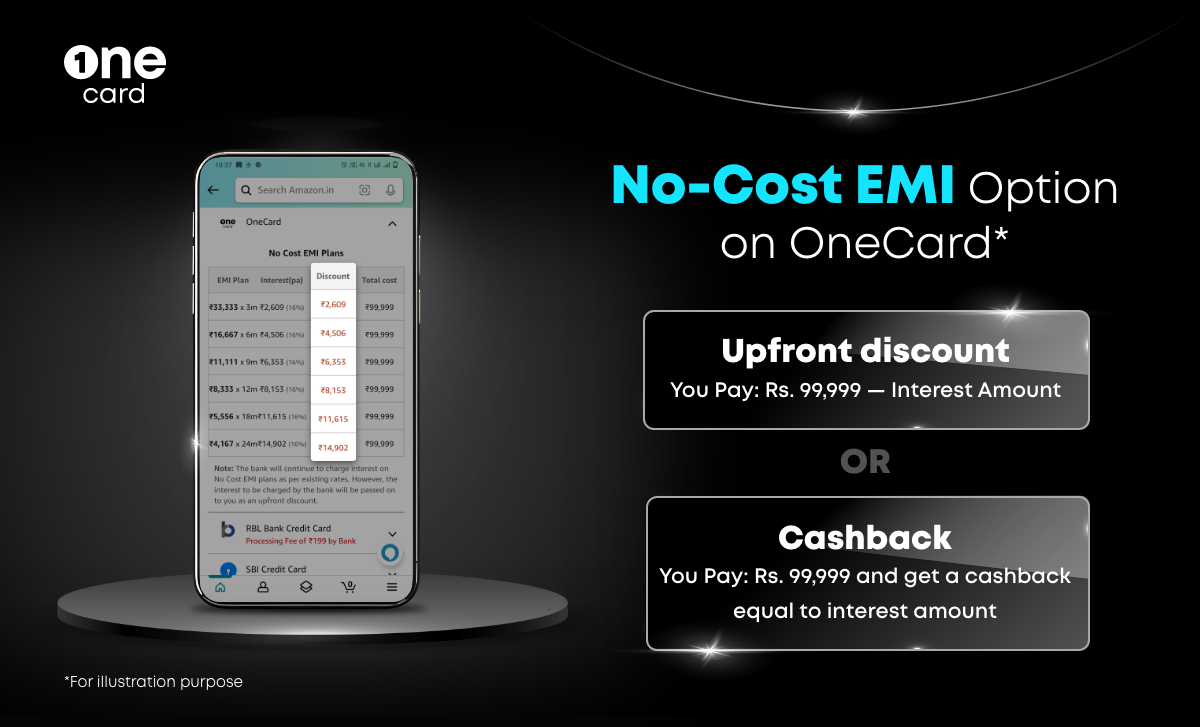 How to avail merchant EMI option on OneCard
You can avail of the OneCard merchant EMI options in both online and offline stores.
Find offers on popular brands
Click on Explore Offers on the homescreen to find the best offers on popular brands, including no-cost EMI offers. You can also click on Rewards → Visit the Offers section. Alternatively, visit your favourite online store like Amazon, click on the product you want to purchase and then click on EMI plans to locate OneCard's no-cost EMI offer.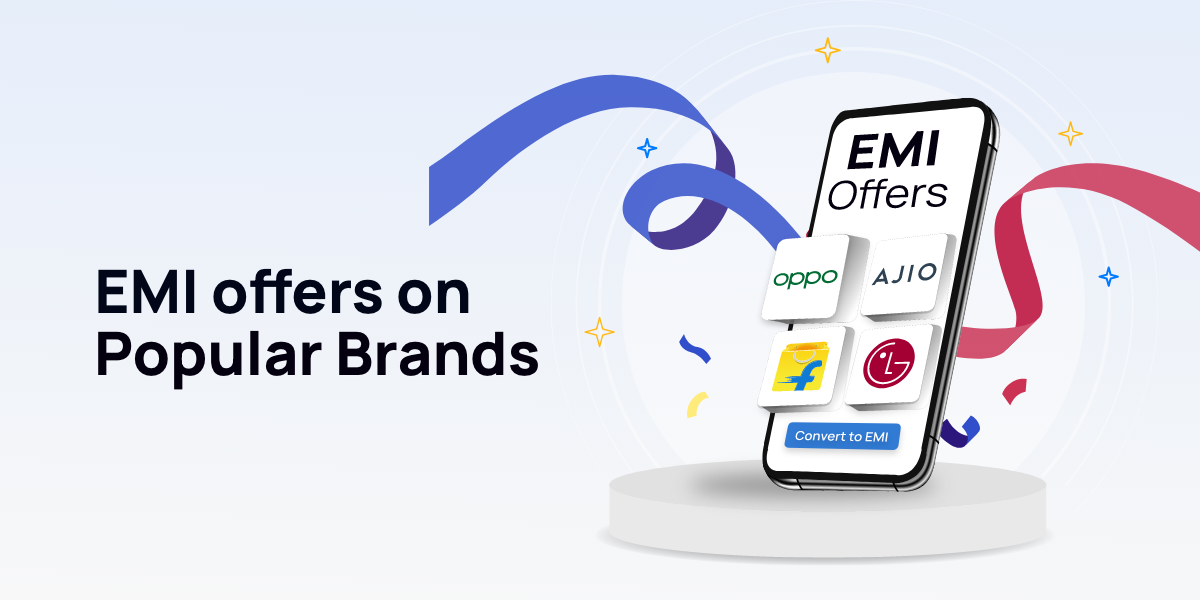 Find offline stores near you
Use the 'Store Locator' option under My EMI to find an offline store where you can avail OneCard EMI offers. You can filter the stores by category and distance to make the search easier for you. Shortlist your favourite stores to locate them easily in the future.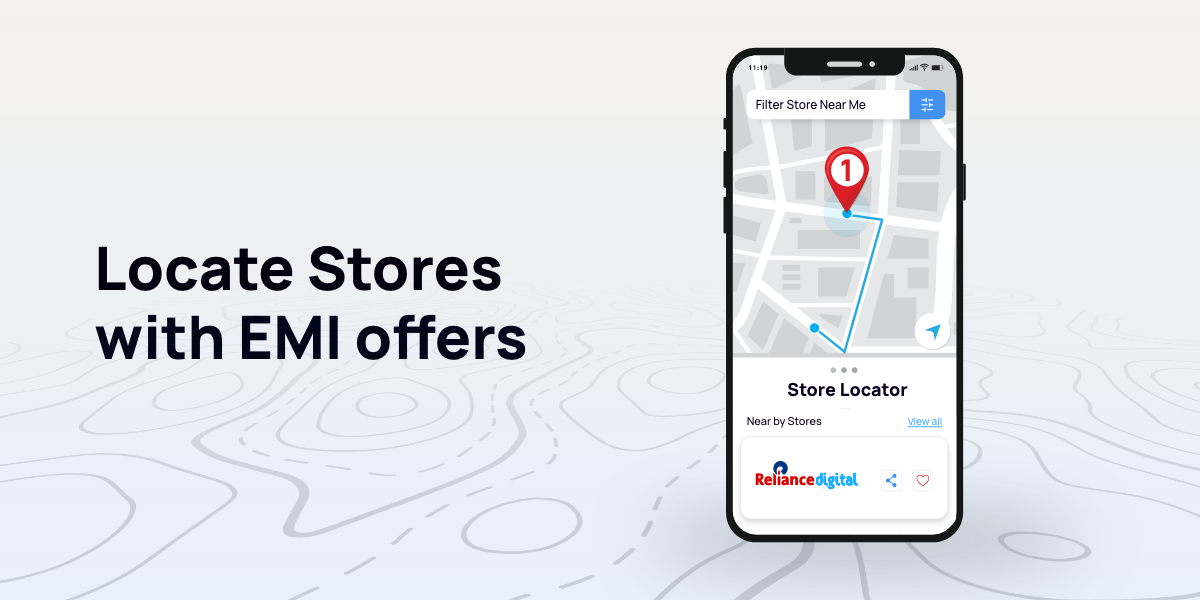 OneCard merchant partners
OneCard has partnered with popular merchants including Amazon, Flipkart, Croma, Vijay Sales, Samsung, Oneplus, Pepperfry, MakeMyTrip, Yatra, LG, and Bose. Avail OneCard EMI at 10 lakh+ stores across these brands and more.
Have you explored the merchant EMI option on OneCard?
Whether you are planning to buy the latest gadget you have on your mind or dealing with cash crunch, OneCard merchant EMI is the perfect solution for you to make your purchases more affordable. Visit the MyEMI section now!
What other types of EMI are available on OneCard?
Overall there are three types of EMI options you can avail of on the OneCard app.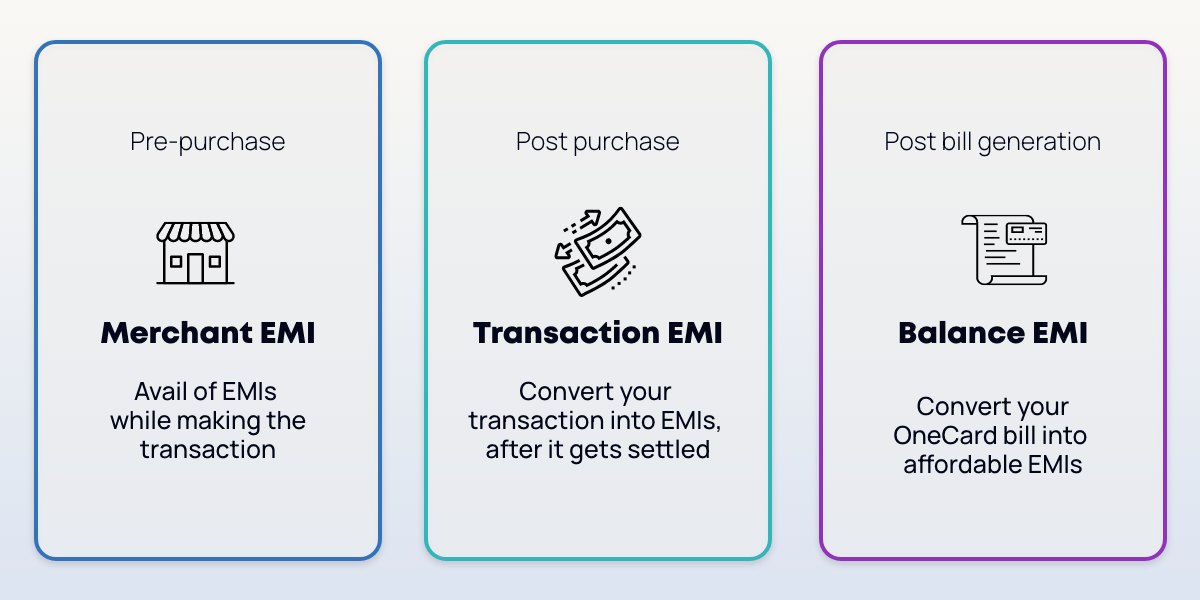 Merchant EMI is explained in the beginning of this article. Here's what the other types of EMI mean in detail:
Transaction EMI
Some credit card issuers allow users to convert their purchases into EMIs at a later stage, i.e., after the purchase is made but before the bill is generated. On the OneCard app, you can use the Instant EMI option to convert your purchases to EMI's without any hassle. Simply click on 'Convert to EMI' option and click on the eligible transactions to convert them into EMIs.
Balance EMI (EMI on bill)
In the event that you are unable to pay the entire bill amount by the due date, you can choose to convert your bill into EMIs. The other option is to pay the minimum amount due, but in that case, you may keep accumulating interest charges if you are not sure of paying it off soon. With the EMI on Bill option, you can comfortably pay off your bill by choosing a tenure of your choice from the given list of options. This way you can avoid getting stressed about the interest accumulation on your outstanding balance.
Got any questions? Feel free to call us at 1800 210 9111 or visit the Help Section on your OneCard app.