Spending money on someone other than yourself promotes happiness. Not only is there research* to support this, but it is also plain to see it all around us. Be it birthdays, weddings, or promotions, friends and family shower us with gifts to show their love and appreciation towards us.
However, buying gifts may not always be easy. More often than not, people struggle to find the perfect gift idea, wondering whether the other person will like their gift or not. This is where gift cards can come in handy. With gift cards, you can find the perfect sweet spot between giving money and buying the perfect gift.
Why should you buy gift cards online
Easy to buy
Whether you buy them for your loved ones or for yourself, gift cards offer a very convenient way of shopping. With OneCard, buying gift cards is even easier. All you need to do is visit OneStore, pick a giftcard of your choice, and buy it with a single swipe on the app.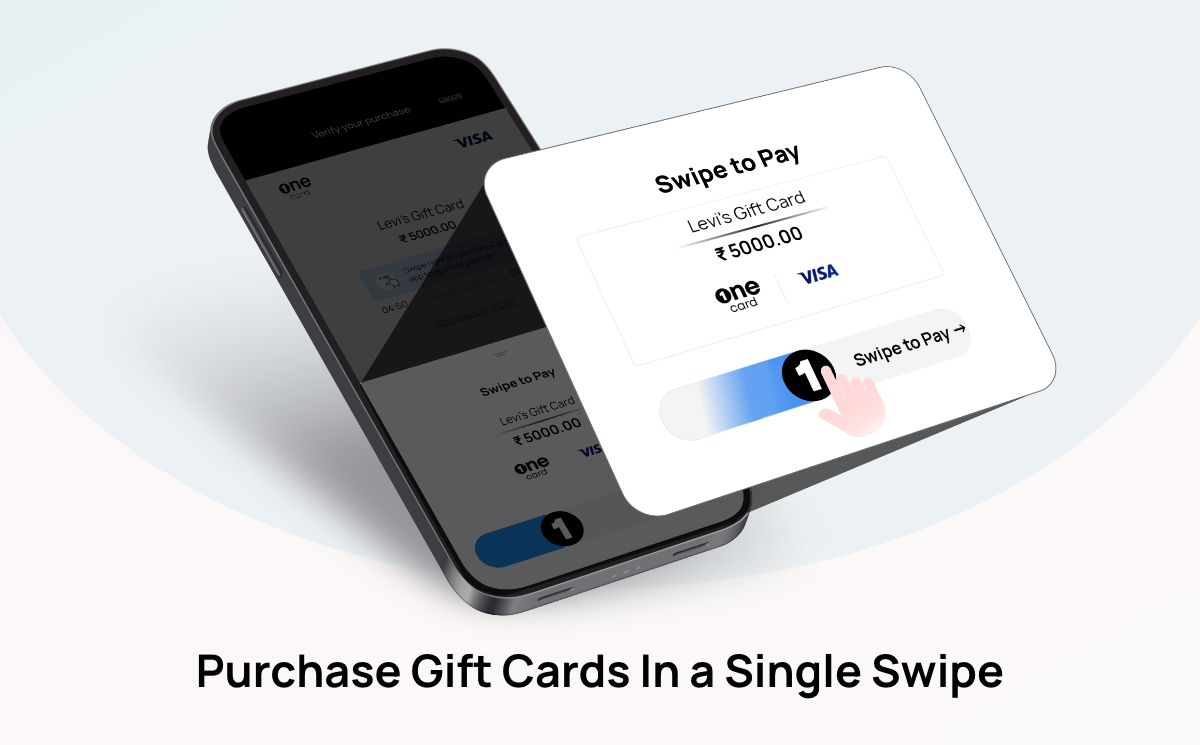 With OneCard, you get benefits in the form of rewards or value back when you purchase gift cards. So while your loved ones enjoy the gift card you share with them, you also get to enjoy the extra savings you get from buying it from OneCard.

Covers the best of brands and categories
There's no need to spend time exploring gift cards on multiple platforms. You can get the best deals simply by using the OneCard app and picking the gift card of your favourite brand. You can also filter by categories to make the search easier. You will find gift cards from popular brands in all popular categories. For example, in the shopping category, we have Amazon gift card, Flipkart gift card, Myntra gift card, Tata Cliq gift card, Home Centre gift card, and more.
Adds a human touch
While nothing can beat getting a thoughtful gift, the next best option is buying a gift card rather than gifting money. For example, if you know your loved one likes to order food from outside, you can simply give them a Swiggy or a Zomato gift card.
Challenges with using traditional gifts
Possibility of need mismatch
No matter how well you search for the perfect gift, it may end up being unused or regifted to someone else. This may especially happen if the gifting occasion is a social event such as marriage, retirement, etc. For example, a gift of clothes, a watch, or even consumer goods such as a juicer, a hair dryer, etc. is not much of a value addition, as there is a high chance your friend or family member already has those products. This not only leads to a waste of resources but may also make things awkward for both of you. Gift cards solve this problem to a certain extent. If you know well about the common spending habits of your friend or family member, it can be very easy to buy a gift card they will find useful.
Gifting items are usually overpriced
With traditional gifts such as decorative items, stationery items, or even cutlery, it may often happen that the item you like is overpriced. With gift cards, you don't need to pay anything extra. You will pay the standard price for brands while getting extra rewards.
Apart from gifting occasions, you can buy gift cards from the OneCard app simply to enjoy some extra savings in the form of valueback. For example, if you use Uber to commute to work daily, instead of using cash or a credit card to pay for your rides, you can buy an Uber Gift card from OneStore. This will enable you to earn 10X rewards on the amount you spend on the giftcard. All you need to do is buy the gift card, go to the Uber app, and add the redemption pin to your wallet.
Explore OneStore
At OneCard, we have transformed the way our users experience credit cards. Backed with powerful technology, our users can make the most of their credit card from their app itself, including buying gift cards, availing offers from top brands, analysing spends, and more.
Visit OneStore on the OneCard app to pick a gift card of your choice.
🤑 Get savings in the form of value back up to 10%
🛍️ Get gift cards of popular brands across categories
😎 Single-swipe checkout for easy buying

*For example: Dunn, Elizabeth & Aknin, Lara & Norton, Michael. (2008). Spending Money on Others Promotes Happiness. Science (New York, N.Y.). 319. 1687-8. 10.1126/science.1150952.