The outlook toward credit cards in India is a mixed bag. However, the future looks promising with around 20%1 annual growth (CAGR) seen in credit card issuance in the last five years.
If you are contemplating getting a credit card for yourself but don't know enough about credit cards this blog is just for you! Read on to get detailed knowledge on every aspect of getting a credit card including the numerous benefits of using a credit card and understanding the right time to get one!
Benefits of using a credit card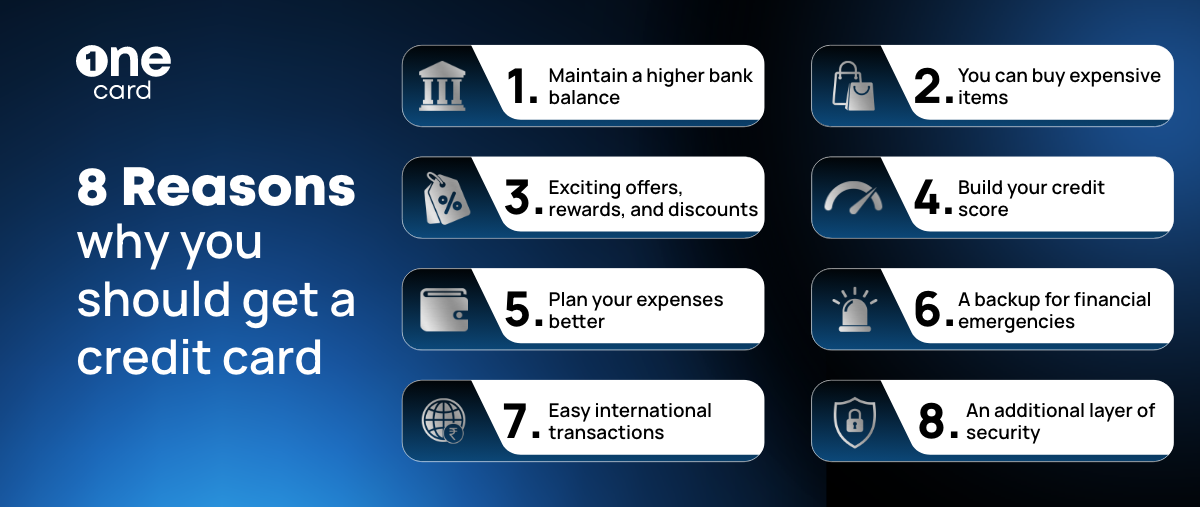 1. Allows you to maintain a higher bank balance
One of the biggest benefits of using a credit card is it allows you to defer your payments to a fixed date and thus allows you to maintain your bank balance. In case of any emergencies, you will have hard cash available in addition to the credit limit, thus strengthening your financial position.
2. You can afford to buy expensive items like electronic goods or furniture
Another most liked feature of credit cards in general is that they allow you to purchase high-value products and services by availing EMIs, either standard or no-cost. This helps you afford products without having to wait till you save up for the entire amount and also helps you maintain your liquidity.
3. You can avail exciting offers, rewards, and discounts
All credit cards reward their users for spending. These rewards include EMI offers, up-front discounts, cashback, reward points, and more. Choose a card that suits your particular needs or you can go for an all-in-one credit card like OneCard that rewards you regardless of shopping categories!
4. Build your credit score easily
When you use a credit card and pay your bills in full on time, you start building your credit score. If you are unable to pay in full at times, you can at least pay the minimum amount due to maintain your credit score. Having a credit score makes you eligible for higher amounts of loans with lower interest rates and credit cards with higher limits.
5. You can plan your expenses better
When you use a credit card you will not just get notifications of every single transaction but also be able to understand your overall spending in a particular month or credit cycle. This helps you keep track of your expenses and contemplate managing them better rather unlike when you spend using cash. Virtually integrated credit cards like OneCard go one step further and provide a sophisticated spending tracker for easy-to-understand spend analysis.
6. You have a backup for financial emergencies
Credit cards can act as a good backup in case of any urgent needs like medical expenses, or bill payments in times of financial crises. It goes without saying that credit cards should not be your primary backup, but it is good to have a backup.
7. You can do international transactions easily
Whether you are traveling outside the country or subscribing to international services, credit cards are the most convenient payment mode to use. In fact, most international websites do not allow you to pay via debit cards or wallets at all.
8. You get an additional layer of security as compared to while using cash or debit cards
Credit cards offer an additional layer of security through various means including fraud protection, insurance, purchase limits, and chargeback facilities. The levels and types of protection may vary across lenders, but due to these security measures, credit cards are generally considered safer than debit cards or cash.

Best time to apply for a credit card
While a lender considers various factors such as your income and credit score before approving your credit card, the decision of whether or not to get a credit card should be yours. Following are some of the common scenarios in which applying for a credit card can be the right decision for you.
1. On getting your first job
Many banks offer credit cards to employees who open a salary account with them. It's a good idea to take up the offer and start building your credit score gradually over time. A good credit score will help you tremendously when in the future you decide on getting a housing loan, car loan, etc. A good credit score also makes you eligible for lower interest rates on loans. However, it is important to take this decision thoughtfully as without self-discipline getting a credit card this early might also lead to a financial mess.
2. Before you make a high-value purchase for yourself or your family
While spending beyond your means is never advisable, you need not shy away from pampering yourself once in a while. So whether you are eyeing the latest laptop in the market or planning to take the much-awaited international vacation, getting a credit card can help you fulfill your dreams in a more planned manner. Instead of exhausting your entire savings on paying for them, you can make payments over a period of time to make the payment process less burdensome. Using a credit card instead of cash on international vacations also reduces the risk of theft. If you are worried about the Forex charges, you can go for credit cards such as OneCard which offer one of the lowest Forex fees in the market at just 1%.
3. When you get a pre-qualified card
If you've been credit averse but generally a financially responsible person, it is a good idea to explore various pre-qualified cards available in the market. Based on your preferences you can either start with your current bank or go with top fin-tech companies such as OneCard to get your pre-qualified credit card. However, do ensure that you enquire around and go through the offer details carefully before finalizing a particular card.

4. If you are making regular purchases in a certain category
If you are spending regularly in a certain category such as groceries, movie tickets, dining or others, it makes sense to get a credit card that rewards you the maximum in that category. If you happen to spend in multiple categories, then it is better to get a card such as OneCard that gives 5X rewards on the top two categories that you spend in.
5. If you want to improve your credit score
If you do not have a credit score you can get a secured card for yourself and start building your credit score. For some reason, if your credit score was impacted in the past, and now you are financially stable, getting a new credit card can help you recover your score.
6. If you want to distribute your repayment dates
If your monthly credit repayments have increased and you do not want to experience the burden of repaying everything at the same time, you can get a new credit card with a different due date. For example, if your monthly expense is INR 1,00,000, and you spend this amount using two credit cards with different due dates, you will have some time between the two repayments to arrange for funds or maintain your bank balance.
ALSO READ: 3 things every millennial needs to understand about credit cards
Bottom Line
A credit card will be one of the best financial tools you will possess. From increased affordability to getting rewarded for spending, a credit card will go a long way in improving your living standard. However, you have to be careful while using your credit card. Paying the full due or at least the minimum amount due and spending responsibly will go a long way in helping you make the best of it.
Looking for the top credit cards available in India today? Check out OneCard, India's best metal credit card that provides:
✅ Instant Virtual Credit Card Activation
✅ Swipe-to-Pay—no more OTPs!
✅ Easy Conversion to EMIs
✅ 5X Rewards with Instant Redemption
And much more to reinvent your entire credit card experience!
1 | Data sourced from RBI Bankwise ATM/POS/Card Statistics and PwC analysis