About OneCard
Credit cards haven't evolved much for half a century, and we're here to change that status quo. Over the past year, we've spent a lot of time talking to consumers gathering feedback on problems they face with their credit cards, due to which we're re-thinking the credit card from first principles with YOU - the consumer, in mind.
The result is OneCard - a new generation of credit built with full-stack tech & backed by the principles of simplicity, transparency and giving back control to the user. And it's gorgeous - check out our short teaser video.
Here's a preview of what you get with OneCard:
- It's Metal
Because, why settle for plastic anymore?
- Zero Joining & Annual Fees
Yes, that's right. No Rs.60K annual fee. No joining fee. No hidden fees either.
- A powerful app to control your OneCard
Our powerful mobile app helps you stay in complete control of your card. No more complex card statements or third party apps to pay your bill. Instantly redeem your rewards on the app, search your transactions or create virtual cards.
- 5X points on Top 2 Categories
Get rewarded where you spend the most. Whether it's dining and travel this month or shopping and fuel the next. No need for multiple cards anymore. Just One is enough.
- Pay your bill with points or use them for purchases
Use your reward points to pay off your statement amount instantly. You can also use them to avail personalised offers, that are actually useful, with points that never expire. We believe if you've earned them, you should get to keep them!
How to get OneCard
You can get your OneCard by downloading the OneScore App, and joining the waitlist. To join the waitlist, you currently need an invite link or a referral code from someone who is already on the waitlist.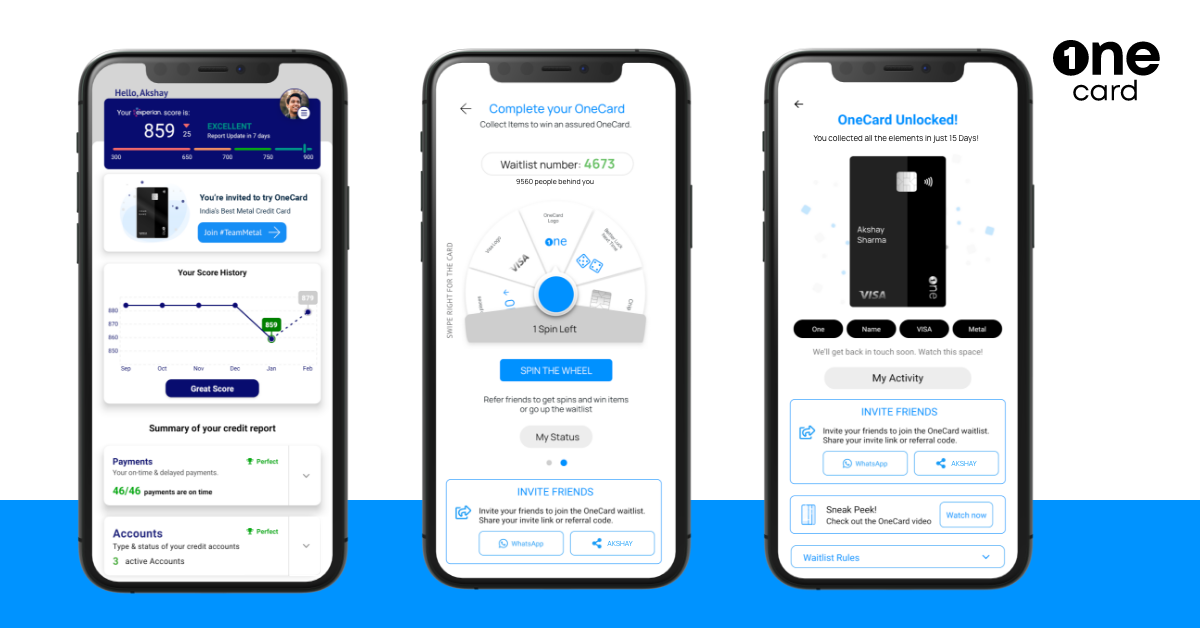 Key Features of Waitlist
- Top 12,000 users on the waitlist at the end of the waitlist period will get OneCard, subject to internal credit guidelines
- The waitlist is open till 23:59 hrs on March 10, 2020
- Invite your friends and get spins as they join the waitlist. You and your friend both get 1 spin for every successful referral
- Get card items (Metal, OneCard Logo, Name, VISA logo), or move up the waitlist when you spin the wheel. Users who collect all 4 card items on the app will 'unlock' their card & get an assured Metal Onecard Credit Card. They'll also get access to new features first!
- We've created a dynamic list to give a chance to users who join late to also get OneCard. You can move up the waitlist by spinning the wheel. The jump logic is randomized with the number of friends invited, your credit score & other data & engagement on app as some factors.
That's not all. There are several other exciting features and benefits related to travel and rewards, which we will share soon. Additionally, if you have any suggestions on features you want, tweet or DM us on Twitter at @GetOneScore or @GetOneCardIN (you can reach out to us for an invite link too).
OneCard is currently available in Pune, Mumbai and Bangalore. We've recently added Ahmedabad, Baroda and Surat. As this is a phased roll-out, other cities will be added soon.