With great power, comes great responsibility, and that is so true for credit cards.
Using the power of your available credit limit, you can make purchases up to that limit even if you don't actually have the money at that moment. However, when it's time to pay up the outstanding amount by the due date, that is where responsibility comes in.
When Should You Make Repayment On Your Onecard?
First, there's your OneCard statement, which shows your spends for a month, as well as credits (refunds, chargebacks, or spends repaid with points). The three most important components of your statement are:
a) Total Amount Due (TAD) - total amount due on your card when the statement is generated
b) Minimum Amount Due (MAD) - amount payable by the payment due date to keep your card account in good standing
c) Payment Due Date - date by when payment must be done
💡Tip: Always aim to pay the Total Amount Due by the Payment Due Date and save on interest charges.
How To Make Repayment of OneCard Dues?
Currently, there are two ways to repay your OneCard dues:
a) From the OneCard app
b) From a third party website/app
Making the Payment From Your OneCard App
The Total Amount Due, Minimum Amount Due, and Due Date are shown in the repayment section of your OneCard app, when you tap on "Pay Now" from the home screen, along with Current Outstanding as well as an option to pay a custom amount.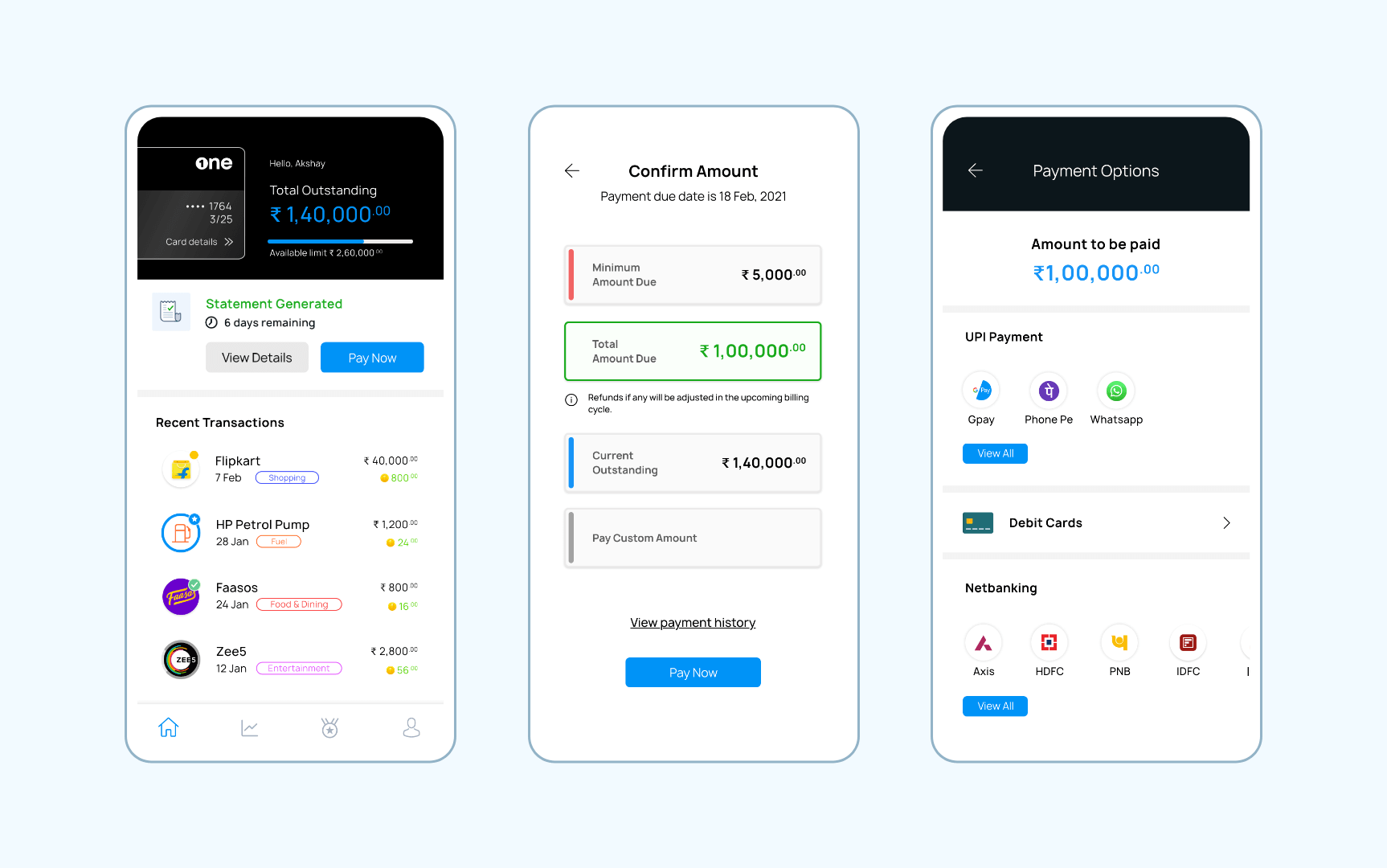 You can repay your OneCard dues via three payment modes, namely,
a) UPI
b) Debit Cards
c) Netbanking
Each of these modes is simple to use and you can make the payment as per your preference. When you make the payment from the OneCard app, it usually reflects within minutes, and your overall credit limit is restored instantly if you repay the entire outstanding amount.
Heads-up: we are in the process of adding other modes of payment for your convenience and will share an update once these have been enabled.
Repaying OneCard Dues From a Third-Party App
There are some third party service providers that allow you to pay your OneCard dues from their website or app. While payments usually go through without a problem, the time taken for the credit to reflect in your OneCard account could take 3-5 working days, depending on settlement cycle of the payment gateway.
💡Tip: Before proceeding to pay, please check if there is a message from your bank about any scheduled maintenance or some issue that could affect payments. This will help to avoid stuck transactions after you've paid - especially if you are making payment on the due date.
Additional read: Understanding Billing Cycle and Payment
The Impact of Timely and Delayed Credit Card Payment
Timely Payment
Once your OneCard statement is generated, you should try to pay the Total Amount Due before the Payment Due Date, and as early as possible. By doing so, you can:
a) free up your credit limit faster
b) avoid interest charges
c) avoid late payment fees
💡Tip: Making regular, timely repayments on your credit card account also helps to build your credit score and credit history.
Delayed Payment
If there is a delay in payment and dues are not repaid by the Payment Due Date, this can have serious consequences, such as:
a) levy of interest
b) levy of Late Payment Charges (LPC)
c) your account becomes delinquent
d) impact on credit score
Paying The Minimum Amount Due (MAD)
Try to pay at least the Minimum Amount Due before the Payment Due Date. This will keep your account in good standing and help you avoid late payment charges.
However, do keep in mind that paying the Minimum Amount Due will lead to "revolving credit", as the unpaid balance is carried forward to the next month. Once this happens, all your new purchases will be charged interest immediately, along with the unpaid balance. Check out our earlier post on understanding how interest is charged on your OneCard.
Depending on the outstanding amount, paying just the Minimum Amount Due every month will take a very long time to clear all your dues and will also affect your credit utilisation ratio, which is an important factor in determining your credit score.
💡Tip: If you're facing a financial crunch, paying the Minimum Amount Due before the Payment Due Date is better than delaying or missing a payment. Once your situation improves, you should clear all your outstanding dues immediately.
Payment Issues
Whether you make the payment from your OneCard app or a third party app, all payments are dependent on technology and multiple systems at multiple organisations, so there could be issues at times - either at the bank, the payment gateway, or NPCI (for UPI payments).
In case of a failed payment transaction, do not panic. Reconciliation systems are quite robust now, so tracing payments and issuing credits (for a successful payment) or refunds (for a failed payment) is quicker and easier than what it used to be some years ago.
Payment Issues from OneCard App
If you make a payment from your OneCard app and there is an issue, please reach out to us immediately via:
a) Uno (our in-app chatbot)
b) Email help@getonecard.app
c) Call 1800 210 9111
so we can check and help in resolving your issue at the earliest.
Payment Issues from Third Party Website/App
If you make a payment from a third party website or app, you can reach out to them for checking the status of your transaction. You can also share the payment details with us via any of the above modes, so we can try and check this for you from our side.
Most payment issues are usually resolved within 3 working days, although it can take longer during weekends/holidays, or if more intermediaries are involved.
To recap, here are some pointers about OneCard repayment to keep in mind:
a) Always try to Pay Total Amount Due before Payment Due Date
b) In case of financial issues, pay at least Minimum Amount Due before Payment Due Date to keep your account in good standing and avoid late payment charges
c) Making payment on time helps to build your credit score and overall creditworthiness
d) Keep a buffer of 2-3 days before Due Date to avoid payment issues on the last day
e) Most payment systems now operate round the clock, but issues during weekends can still take longer to resolve
Most importantly, you should always reach out to us in case of any repayment issues. We're here to help and make your OneCard experience enjoyable and stress-free! 😇