Paying credit card bills on time is essential to make the most of your credit cards. If you are new to OneCard or want to understand more in detail some of the best ways to pay your OneCard bill - this blog is for you!
Ways to pay your OneCard Bill
1. In the OneCard app
The fastest and easiest way to pay your OneCard bill is through the app. It's super simple. On the home screen of your app, you will see a 'Pay Now' button. Just click on it and choose from the options given.
You can choose to pay the total amount due (TAD), the minimum due (MAD), or a custom amount of your choice using any of your preferred modes, such as UPI, debit card, or netbanking.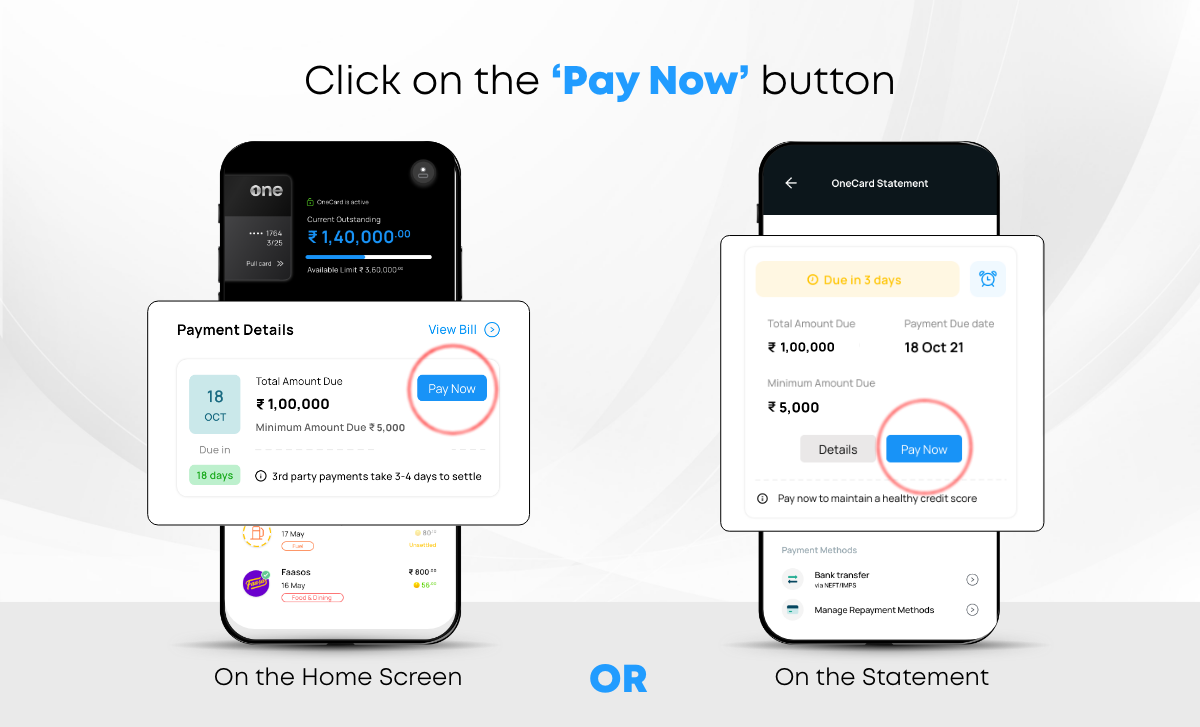 2. Third-party apps
For any reason, if you prefer to pay your OneCard bill via a third-party app such as Cred, Paytm, or PhonePe, we recommend you keep the following things in mind for a hassle-free payment experience:
Before making the payment, cross check the bill amount with the OneCard app.
Pay your bill at least 4-5 days before your bill due date, as payments via third-party apps sometimes take 2-3 days to reach us. If you are on the day of your bill payment date or close to it, we recommend not to use third-party apps as the payment may not reach us in time.
If the payment doesn't reach us by the due date mentioned on your bill, you will be charged interest as well as a penalty, as applicable for late bill payments.
In case your payment fails for any reason, the refund from us, may take up to 7 working days to reach your account. This will temporarily block that amount of your credit limit for 7 days.
3. Auto-Pay
If you have a busy schedule and tend to forget due dates, it is best to set up Auto-Pay for your OneCard bill.
All you need to do is:
Click on 'Auto-Pay', on the home screen of your OneCard app. If you have already paid your current bill, click on 'View Bill' to find the 'Auto-Pay' option.
Click on 'Setup Auto-Pay Now'
Select an option among 'Total Amount Due' and 'Minimum Amount Due'
Select the preferred date for your 'Auto-Pay' debit from your account
Click on 'Proceed' to select your bank and authorise payments
4. EMIs
If, in any month, you have a cash crunch and are unable to pay your full bill, you can convert it into EMIs. All you need to do is:
Click on 'Pay bill in EMI'*, on the home screen of your OneCard app
Select the tenure of your EMI from the options given on the screen
Check the details and click on 'Convert to EMI'
Click on Confirm
*'Pay bill in EMI' option will be active only for eligible OneCard users. If you are not eligible, you will be shown the reason for the same.
Final Words
We hope this blog will help you pay your OneCard bill without any trouble. In case you have any further questions or face any challenges while paying your OneCard bill, contact us by visiting the Help section situated on the top right corner of your app.
Frequently asked questions
1. Is there a fee for Auto Pay and third-party repayments?
OneCard does not charge any fee for setting up Auto Pay or for making payments via third-party apps.
2. Can a third-party repayment option be used for Auto-Pay?
On the OneCard app, you can set Auto-Pay only via a bank account.
3. Do third-party repayments affect credit scores in any way?
The mode of repayment does not directly impact your credit score. As long as you are paying the required amount and it reaches us on time, third-party repayments do not impact your credit score.
4. What do I do if I've paid my bill via a third-party but the same is not reflected in my OneCard app?
Payments made via third-party apps may take 2-3 working days to reach us. We request that you wait for the payment to get updated on the OneCard app. Alternatively, you can reach out to the support team of the third-party app to get an update on your payment.