Increased digitalization of payments and the penetration of the Internet, have made financial transactions easier and more transparent. However, this increased involvement of technology has also led to an increased vulnerability to cybercrime. To make matters worse, victims of cybercrime most often struggle to find timely support for resolution due to a lack of knowledge.
This article intends to solve this by increasing awareness about cybercrimes and elaborating on how to get justice in case you become a victim of one.
What Is Cybercrime
Cybercrime is a type of criminal activity that targets or uses a computer, a mobile phone, an entire computer network, or any device that is attached to a computer network. Most often, this type of crime is committed to make money, however, at times, it can also be committed with other malicious intent.
What Are the Types of Cybercrime
There are many different types of cybercrime, such as:
Identity fraud: Stealing someone's online credentials and using them to commit fraud
Cyber espionage: Spying on someone remotely, typically against a business or government entity
Cyberextortion: Demanding money by threatening of cyber attack
Cyberstalking: Using social media or websites to instill fear
Clickjacking: Tricking website users into clicking on a malicious link by disguising it
Selling illegal items or services online
Examples of Cyber Crimes
Phishing
This is a type of fraud where scammers send fake emails or messages to trick people into sharing their personal and financial information. For example, a fraudster would send an email that appears to be from a user's bank, asking them to click on a link and enter their login credentials to verify their account information. The link then leads to a fake website that looks like the bank's website but is actually created or controlled by the fraudster. Once the user enters their login credentials, the fraudster can use them to access the user's account and make unauthorized transactions.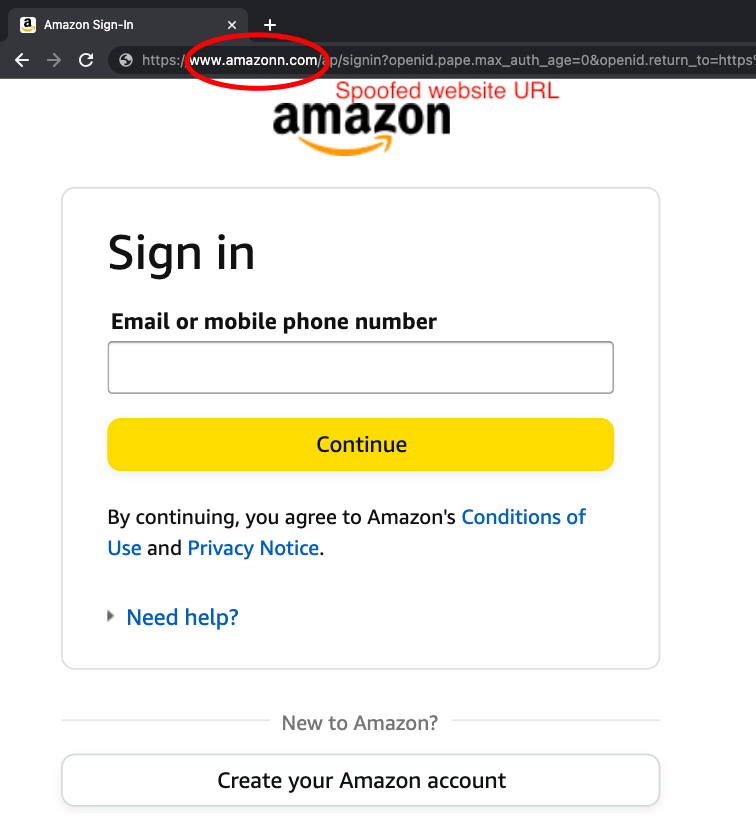 Vishing
This is a type of fraud where fraudsters impersonate legitimate organizations or individuals over the phone to obtain sensitive information from victims, such as their bank account details, credit card numbers, or passwords. For example, fraudsters use various tactics to gain the trust of their victims, such as posing as a bank representative, a government agency, or a tech support agent. Once they have gained access to the victim's personal information, vishing fraudsters can use it to steal money from their bank accounts and make unauthorized purchases. Victims may not realize they have been scammed until they receive their bank statements or credit card bills, by which time it may be too late to recover their losses.

How Do Cybercrime Complaints Work
If you are a OneCard user and a victim of cybercrime, apart from reporting it to the OneCard support team, you should share your grievance with the Govt. of India's Cyber Crime Portal.
Following is a step-by-step approach for doing the same:
Dial the helpline number - 1930. This line is handled by a cyber police officer

If the crime took place more than 24 hours ago, you would be asked to formally lodge a complaint on https://cybercrime.gov.in/. If the fraud took place within the last 24 hours, the operator will fill up a form after seeking personal information and details of the purported crime

A ticket then gets escalated to the financial intermediaries (FI) concerned such as the bank where the victim had an account.

The ticket generated for the fraudulent transaction is shown on the dashboards of both the debited Fl (i.e. bank where the victim has an account) and the credited FI (the bank/wallet of the fraudulent beneficiary account)

The bank or FI to which the ticket has been escalated, checks for the details of the fraud transaction. If the funds have already moved out of that bank/wallet, it will feed the transaction details in the portal and escalate it to the next Fl. If funds are found available there, it temporarily puts them on hold.

The ticket continues to escalate till the funds are put on hold or they exit the digital ecosystem through channels such as an ATM, physical withdrawals, digital payments, etc.
ALSO READ:- How fraudsters use psychology to con you
How To Lodge An Online Complaint About Cybercrimes
Use the following steps to lodge the complaint on https://cybercrime.gov.in/
Step 1
On the homepage, you can notice that next to the home button tab, there are two options: 'Report Women/Child-Related Crime' and 'Report Cyber Crime'.
Step 2
If a woman or a child is a victim of cybercrime, you can click the first button; otherwise, click on the second button. Upon clicking the first button, you will find the options to 'Report anonymously' and 'Report & Track'. Under the second button you will find the options to report either a 'Financial Fraud' or 'Other Cybercrime'.
Step 3
As the next step, you have to click on – 'File a Complaint' and then the 'I Accept button' to move forward. Go through the terms and conditions as well as the privacy policy before accepting them.

Step 4
Now you have to create a user ID, register your mobile number, on which you will receive an OTP, and fill in your name and state. After successfully logging in to the page, you can choose your respective area (locality/city/state where the victim resides) and register a complaint. Fill in the relevant details about the offense.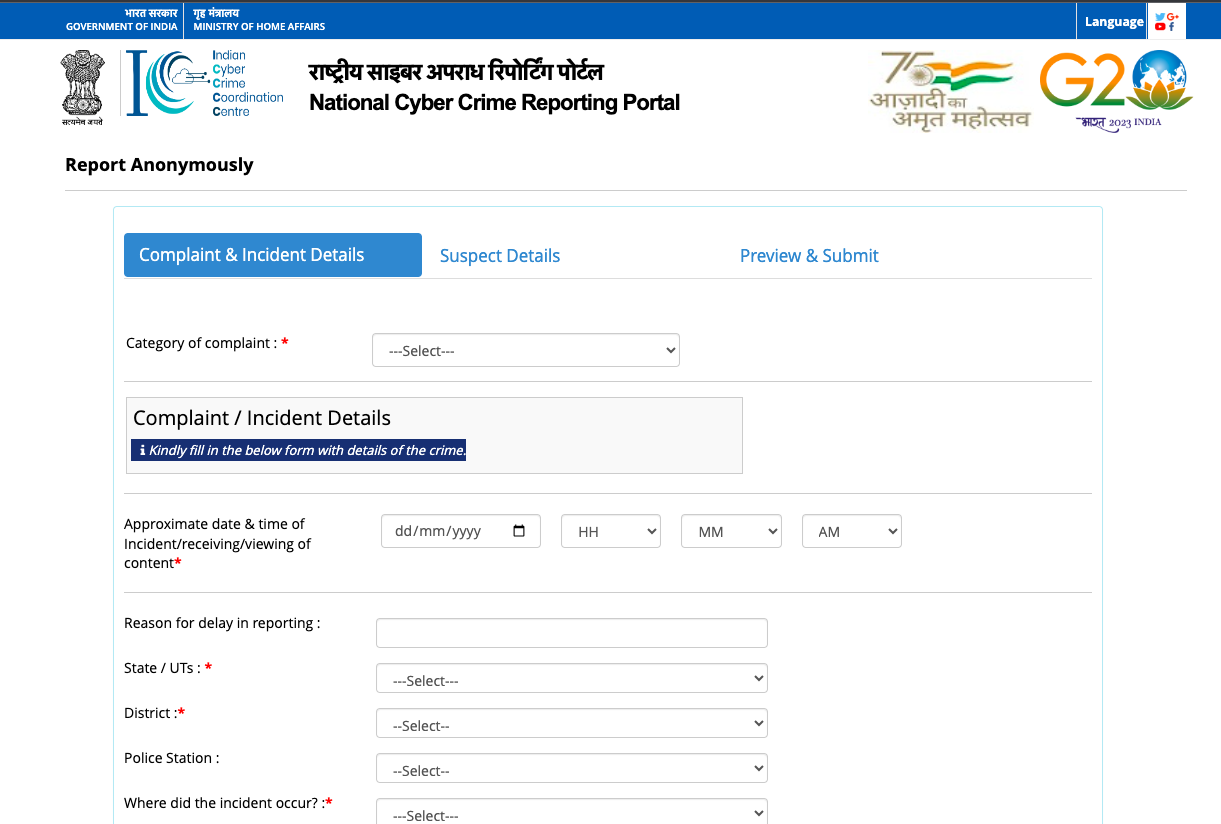 Follow similar steps to file a complaint under the report 'Other Cybercrime' option. Select the appropriate category and sub-category.
How To Track Your Cyber Crime Complaint
Once you have registered the cybercrime complaint on the website, you will receive a unique reference number. Further communication regarding the investigations will be done using the unique number generated. You can also use it to track the status of your complaint.
Final Words
Between January 2021 and November 2022, a total of 884,963 complaints were received under the online financial fraud category of the National Cyber Crime Reporting Portal. The actual numbers might even be higher, given that not everybody has enough awareness about cybercrimes or is willing to report them further. We hope this article gives you a deeper understanding of cybercrime and will guide you to get a resolution in case you become a victim of one.
If you are a OneCard user and suspect fraud at any time, please contact us immediately over chat support, email us at reportfraud@getonecard.app, or call us at 18002109111.