While a lender may decline a transaction for multiple reasons, the primary objective for doing so is protecting customers from fraud. Having said that, any time a transaction gets declined, it is natural that the user will get uncomfortable and wonder what can be done to get through the same.
So if you are a new OneCard (or any other credit card) user, here's a list of all the reasons why your credit card transaction might get declined and how can you avoid the same.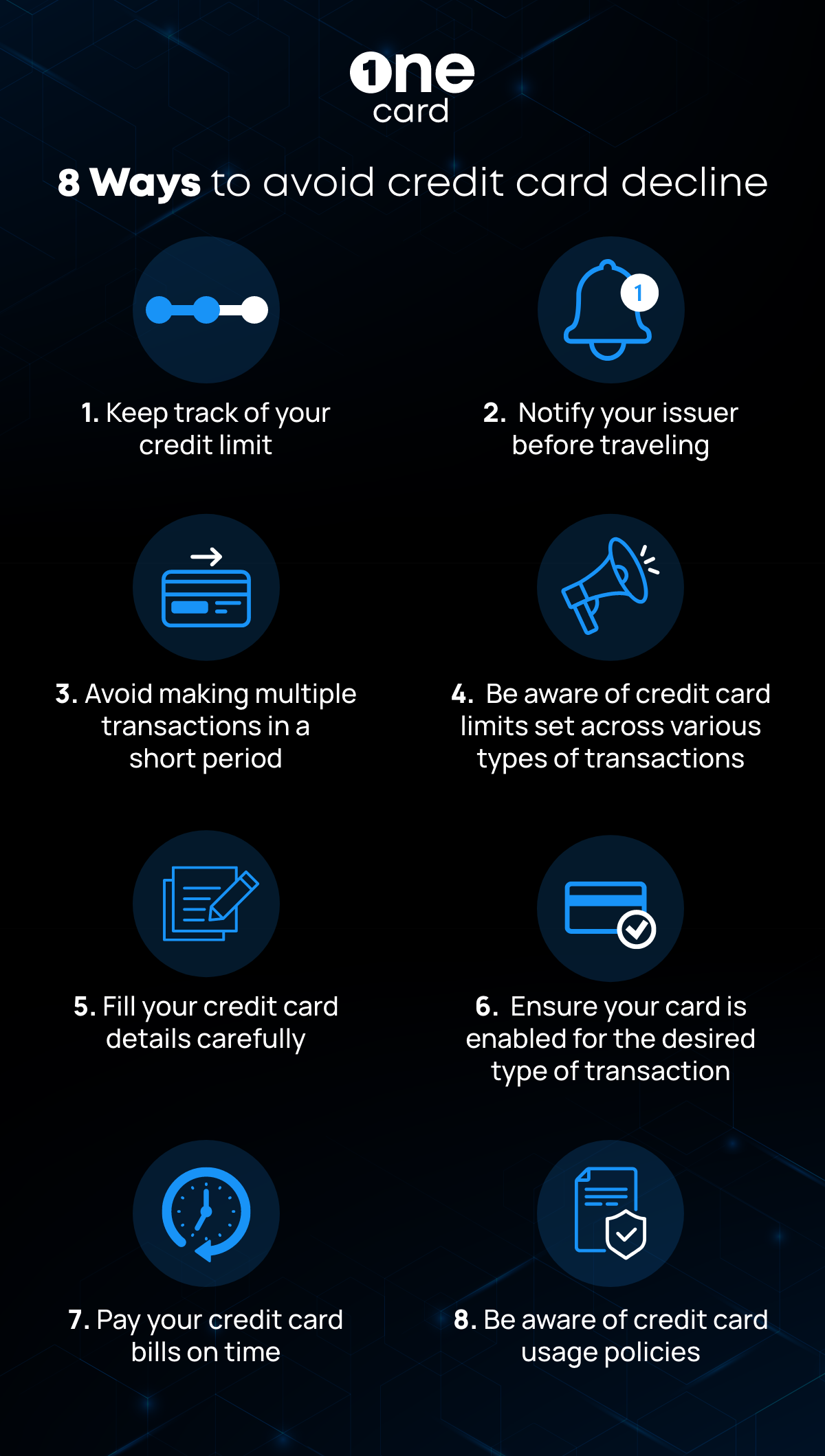 Transaction or account related issues
1. You've reached your credit limit
While it's recommended to maintain a credit utilization ratio of 30% or less, there may be times when you end up exhausting your credit limit completely. This may also happen if you are sharing the credit card with your family and you are unaware of certain transactions. It may also happen that the primary cardholder exhausts the limit first and hence the transactions on the add-on card get declined despite them not crossing their individual limit. The credit limit may also get exhausted if you have activated certain standing instructions that you didn't take into account while making new transactions.
Also Read:- Here is How To Increase Credit Limit
2. You are paying from a different location
If you suddenly make a transaction from an entirely different location that is far away from your regular location, the lender might decline the transaction due to the risk of it being fraudulent. This may also happen in the case of e-commerce transactions where the merchant is located at an unusual location. Though such declines cause inconvenience to genuine users, it is a measure undertaken to keep you safe.
3. While spending an unusually large amount of money
All credit cards these days have standard limits set across different types of transactions. If you exceed the limit, the lender will decline the same. There's also a possibility that you yourself set certain limits and forgot about the same, leading to transaction decline.
4. You've entered incorrect card details
At times you may enter incorrect card details such as card number, CVV, PIN, expiry date, or OTP while making a payment. You will get a transaction declined notification with the appropriate reason mentioned in it.
5. You've been missing repayments
If your bill is overdue, your lender may start declining transactions on your card. In this case, it is important to clear the pending repayments or contact your lender for working out a suitable repayment plan.
Also Read:- What Happens If You Miss A Credit Card Payment
6. The card is disabled for a particular type of transaction
Credit cards come with various user controls that allow you to enable or disable transactions and set transaction limits for various channels such as e-commerce, contactless, international, ATM, QR code, etc. If currently the transactions are disabled or the limit is lower than your transaction amount, your transaction will get declined on performing any such transaction. At OneCard, we immediately send you a notification with the exact issue and the required changes can be done on the app in real-time.
7. Your card has expired or you have closed your account
Your credit card transaction will get declined if you try to use a credit card that has expired. While credit card companies do send you a new card once your old one is nearing expiry, you may miss out on using the same. Make sure you use the latest card to perform your transactions.
It goes without saying that if you've closed your account, your credit card can no longer be used for making any transactions.
8. Your credit card has been put on hold
Your card may be put on hold for reasons including anything from incomplete KYC to defaulting on repayments. Contact your lender at the earliest to find a solution for the same.
9. Incorrect or missing information from the merchant
A lender may decline your transaction if the merchant shares incomplete, incorrect or incorrect information while processing the transaction.
10. Incomplete or incorrect KYC
While any lender will need you to complete your KYC formalities before issuing you a card, the requirements may change from time to time and require you to furnish more information. Also, in certain cases, lenders may identify issues with your KYC verification at a later stage and put your account on hold till the matter is resolved. Lenders will contact you to share the updated documents and provide you with the steps required to complete the KYC.

Situations Flagged as 'High Risk' by Lenders
1. High utilization ratio
If you are spending a large amount of money in a very short span of time, the lender might think that your card is getting compromised and thus decline your transactions. The lender also declines high-value transactions with high-risk merchants as there might be an intent of fraud. For example, if a card is being used to withdraw a high amount of funds to wallets.
2. Card getting compromised
In case the lender finds any suspicious activity on your card, or you report the card as stolen, or if the lender gets notified of any data breach at any other source where your card information was stored, they will decline your transaction as a precautionary measure.
3. Violating the credit card usage policies
Lenders have appropriate mechanisms in place to ensure any transaction in violation of usage policies is flagged immediately. This may include instances such as: subscribing to a service that doesn't comply with the regulator guidelines on enabling standing instructions, merchant compliance issues, etc.
ALSO READ: How your OneCard keeps you safe from fraud


Technical Issues in the Payment Process
In rare scenarios, a credit card transaction may also get declined due to a technical issue arising at any point in the payment process. It may include incidents such as network issues, server issues, etc. But don't worry, at OneCard we are working hard to make sure you don't need to face these issues.
Bottom Line
While using credit cards it is important to proactively keep a track of your spending and be compliant with the various usage policies provided by lenders to avoid transaction declines. It is important to understand that the majority of transaction declines happen with customer safety as the primary concern, hence taking care of your spending habits and following common safety protocols will help you avoid transaction declines.
If you are a OneCard user and have any further questions, feel free to explore the Help Section in your OneCard app to get instant resolution to all your queries. If you are looking for a hassle-free credit card experience, check out OneCard, India's best metal credit card, built with full-stack tech.